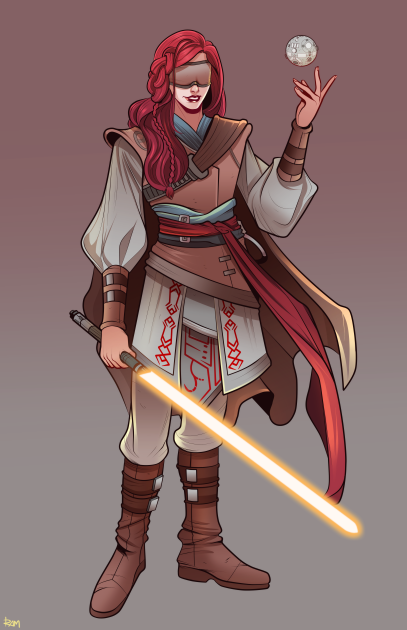 Name : Yesha Tehri
Height: 5'1
Weight: 44 KG
Eyes: Non applicable
Hair: Short flame colored
Skin: Caucasian
Age: 13
Species: Miraluka
Homeworld: Alpheridies
Class: jedi
Path:
Relatives: Two living parent, twin sister
Physical features: The feature that seem to stand out for most other species is the miraluka lacks of eyes but her flame colored hair definitely a feature that stays in people's mind.
Personality: Unlike her sister, Yesha is a calm, quiet and collected child not prone to outburst our thoughtless decisions. A fact her sister teased her on many time.
Force Sensitivity: yes
Physical Description of Character: Yesha is about the average height for her age, she wears her bright orange hair short so as to avoid them getting in her way.
Early Life: Yesha was born with her twin Lilinn on Alpheridies to two loving parents, when the local jedi watchman came to their home he had a long discussion with their parents which ended with the twins leaving their home for the jedi order.